A Personal Profile: George Blackstock
By Jim Willows, Immediate Past President, NFBC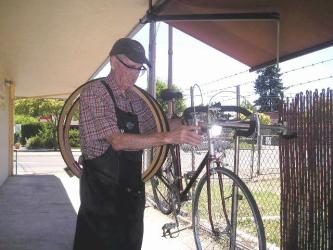 Longtime Federationist George Blackstock works
on a bicycle in his shop in the Napa Valley.
George Blackstock has been a Federationist since the early 1980s. George is fortunate to live in one of the prettier parts of California—the Napa Valley. He has been a bicycle repairman for some 44 years. He operates his own repair shop, George's Fix-a-Bike, in the city of Napa. He is currently the president the NFBC's Napa Valley chapter. He has held the presidency of this chapter several different times, as well as holding other chapter offices.
I telephoned George at his bike shop to set up an interview for this profile. While talking to George, I heard a train that sounded like it was running right through the shop. I asked George about it. He said that it was the famous Wine Train that runs several times a day from Napa past several of the well-known wineries in Napa and Sonoma Counties.
You will usually find George at our state conventions. He has missed very few during his time in the Federation. He is a member of our NFBC statewide chapter, the Chapter on Aging.
George was born in Vallejo, California on July 25, 1932. This rings a bell with this writer, since I was born in this same town in October of the preceding year.
Neither George nor I stayed long in Vallejo. At the age of six months, I moved with my family to a rented farm in Martinez, where we lived through the worst of the Great Depression years. George and his family moved to San Diego. Upon the separation of his parents, George went to live with an uncle in Arkansas. George's father remarried and George moved back to California to live with him and his new wife. They lived in Ontario, then Kentfield and finally in Lagunitas, the latter two cities in Marin County.
While living in Lagunitas, George attended and graduated from high school in San Rafael, a neighboring town. During this time George had been diagnosed with RP, but continued to use visual techniques.
Upon graduating from high school, George entered a four-year program as an apprentice machinist at the Mare Island Naval Shipyard in Vallejo. He completed this program as a journeyman machinist. After working as a machinist for some time, George found his failing sight was causing problems for him. He had picked up bicycle repair and decided to start his 44-year career in this field. He got a job at Domac Bike Shop in Walnut Creek, California. Here he did bicycle and lawn mower repair. He went on to open his own shops, first in Vallejo and then in Napa, where George's Fix-a-Bike was born and lives until the present day.
During the time George was working as a machinist, he met Hazel, the woman he would marry in 1957. George and Hazel spent 18 years together. Shortly after their marriage, their daughter, Marie, was born. Marie now lives in Washington State with her husband and George's 20-year-old granddaughter.
In the 1970s George took time off from bike repair to rent and run a farm near Napa. He raised goats, rabbits and chickens. He also had a large garden on the farm. But, even on the farm, George still had people coming to him to fix their bicycles. With this customer base, George eventually decided to reopen his Fix-a-Bike shop.
As George's vision deteriorated, he contacted the Department of Rehabilitation office in Napa County. He received training in Braille, cane travel and skills of daily living from a Counselor-teacher for the Blind.
However, it was not until he met his NFB friends that George received decent cane travel lessons. These were given by Laveda Davis, the President of the NFBC Napa Valley Chapter at that time. Later George went to Guide Dogs for the Blind in San Rafael to obtain his first guide dog. His current dog, Delma, is a fixture at the bike shop.
George Blackstock is a real inspiration to me. He has made a good living in a field that probably only other blind people know is one in which the blind can compete on equal terms with the sighted. A recent newspaper article provided good information about George's bicycle shop, but marveled that George could do well in bicycle repair as a blind man.
As I said, I am inspired by George's work. I guess it is because I would probably starve if I had to make a living working with my hands. George does very well doing so.
I urge all of you to try to meet George Blackstock at our next convention. He is a quiet man, but one who has much to offer to all of us.