Bowling For Bucks
By Juliet Cody, President, Beach Cities Chapter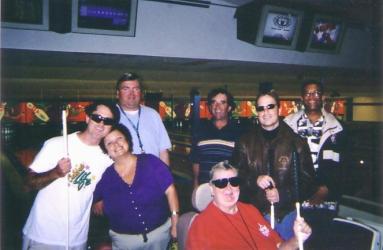 Beach Cities chapter members enjoying a bowl-a-thon.
It was time to plan another fundraiser for the Beach Cities chapter. Our fundraising chairperson, Pat Whisman, came up with the idea to have a Bowl-a-Thon in which our chapter would bowl for dollars. Everyone immediately became excited and we began to brainstorm. The point was for each bowler to get sponsors who would pay a certain amount of money per pin. In other words, we were bowling for bucks.
Soon arrangements were made at the local bowling alley and each member gathered his/her own sponsors. In addition to making money, this function would once again give the Beach Cities chapter the opportunity to educate the community about blindness. So, naturally, we brought our table, banner, and literature. We also had helium balloons and candy to give away. The members of the Beach Cities chapter have a lot of enthusiasm and we feel that we are a very important part of the beach community. Therefore, we invited the Mayor of Oceanside to join us, and he did!
As we were lacing up our bowling shoes, thoughts of falling pins and raising donations were going through our heads. Finally, we were ready and the pins were ready to be knocked down. We had two lanes, so we divided into two teams. Just behind us was our literature table with lots of bright colored balloons, a large bowl of candy and our banner properly displayed. Now, the blind were ready to knock down some pins!
When each bowler approached the lane, we would cheer for strikes and spares. A friendly competition developed between the teams. Who could pick up the most spares and strikes? Since we knew it was for a good cause, the competition was kept on a humorous level. We referred to ourselves as the Flintstones bowling at the Bedrock Bowling Alley. It was pretty funny. Our laughter was infectious with the crowd. As we took our turns bowling, we also took our turns manning the table. Since we were giving away free balloons, candy, literature, and we were having such a blast, people gathered around. This gave us the opportunity to educate them—and even the Mayor—about blindness and our mission.
When it was all done we tallied up the scores and realized that we had earned over $300 for our chapter. That is what I call striking out for the blind!