Meet the NFB National Convention
By Nathanael Wales, President, River City Chapter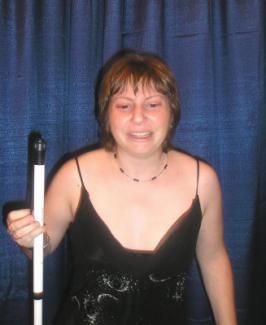 Ronit Ovadia, tenBroek fellow (receiving her
second national scholarship) will be attending
Northwestern University in Chicago in the fall.
Regular readers of these pages are by now familiar with NFB National Convention: its purpose, agenda, awe-inspiring size, and power to impact the lives of blind people of all ages and from all backgrounds. The specific issues, the powerful agenda programs on education of blind children and vocational rehabilitation, each resolution of the convention, along with the texts of national president Marc Maurer's annual presidential report and banquet speech, will be included in The Braille Monitor later this summer. Every reader new to these pages should explore the depth, breadth, and power of the National Convention in the Monitor and on the NFB's national website. In these next paragraphs I will introduce readers to many of the members and colleagues who made this year's National Convention the outstanding week that it was for me.
I first met the NFB National Convention—I first saw the members and colleagues of it, more precisely—on my flight to Louisville. One of those members was a roommate of mine. He is a fellow member of our River City Chapter, is currently a client of the California Department of Rehabilitation and the Society for the Blind in Sacramento, and aspires to enter a job as a chef or a business owner in our state Business Enterprise Program for blind vendors. This was his second National Convention, and he used the week to continue previous networking with successful businesspeople in our national division for blind merchants.
I next met the National Convention upon my arrival at the beautifully remodeled and renovated Galt House in Louisville. I saw our second roommate later in the afternoon. He is a friend of one of our three NFB national scholarship winners. This friend is sighted, and at the convention for his first time he quickly picked up on our philosophy about blindness and got to know many college student members of the NFB.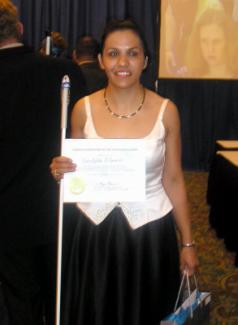 Christella Garcia will be attending
Sacramento City College in the fall.
My meeting of the National Convention kicked into high gear later that afternoon when the aforementioned National Scholarship Winner, Hoby Wedler, and I headed to the scholarship program's orientation meeting with the class of 30 winners and some 30 committee members. Hoby was introduced to the NFB at the 2004 Rocket On camp for high school students conducted by our new Jernigan Institute and NASA. The camp focused on science, specifically rocket science, with the culmination being the students' launch of a NASA rocket from a facility in Virginia. The 2005 convention was Hoby's first, and he embraced the opportunities to meet successful blind men and women from a number of professions who would serve as mentors to him and to network with blind college students studying in a number of fields at colleges and universities from California to Florida and Massachusetts.
As a member of the NFB National Scholarship Committee this year, I had the responsibility—and joy—to serve as a mentor to a different member of the class of winners each day. On Saturday evening and Sunday I mentored a nontraditional student from Minnesota studying engineering, likely focusing on the branches of mechanical, civil, or environmental engineering. His story is proof that the NFB's approach to rehabilitation works. Having worked for years in heating and air conditioning maintenance, he became blind and decided relatively quickly to get training in the skills of blindness. He got that training at our adjustment-to-blindness training center operated by NFB members in the Twin Cities, and is now back in school pursuing a bachelor's degree. I saw this winner throughout the week at various meetings.
There was a great mix of scholarship winners. A motivated and energetic undergraduate from New Jersey is aspiring to study at one of our nation's top law schools and to become a defense attorney. An undergraduate studying sociology in Louisiana after completing adjustment-to-blindness training at our Rustin training center is currently working in a summer internship doing media relations for the Central Intelligence Agency (and who, as a high school student, for Senator John McCain). A 2005 high school graduate and Eagle Scout planning to enroll at Texas A&M as a history major enjoyed his first national convention. A 2005 high school graduate from the Missouri School for the Blind plans to be an athletic coach or trainer and was the recipient of a scholarship from his NFB state affiliate. On the opening day of the convention general session I had been assigned Hoby Wedler as my scholarship winner to mentor; that afternoon the entire general session heard from Hoby as he spoke from the student perspective about the 2004 Rocket On camp as a small part of the Jernigan Institute's extensive report to the NFB's membership.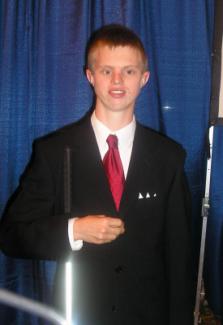 Hoby Wedler will be interning at Goddard
Space Center and attending college in
Colorado Springs in the fall.
Hoby and I shared the opening day with one of the six blind undergraduate summer interns for NASA. He is a very bright, friendly young man studying physics and Spanish in Colorado Springs and will be interning at the Goddard Space Flight Center in Maryland. This was his first national convention, but he had already attended his state affiliate's convention last fall as a statewide scholarship winner.
California was pleased to be the home state of three national scholarship winners. They are Christella Garcia, Hoby Wedler, and a tenBroek fellow, Ronit Ovadia. Also, Thien Vu was selected to be one of the interns to spend five weeks at the Jet Propulsion Laboratory in Pasadena.
It was a joy to listen to President Maurer's address at the banquet. I could, of course, go on about the National Convention that I met in lines at the Galt House's new deli, on marshal duty before the banquet, or in crowded elevators. I could talk about the National Convention that I met at after-hours parties and informal get-togethers in friends' rooms. I could detail the registration, the diversity and breadth of the NFB of California at our caucus, and the dedication of my fellow Imagination Fund Imaginators. But, as I said, I thought I would briefly introduce you to the fellow members, colleagues, and friends that made the National Convention the truly special first week of July that it was for me. I hope that if you, too, met the National Convention this year that you will share the fullness of the positive experience with your fellow local chapter and state affiliate members. I hope that if you did not meet the National Convention this year, that you will plan to do so next year.