Braille Symposium
By Maurine Barcelo, President, Greater Pasadena Area Chapter and NFBC Treasurer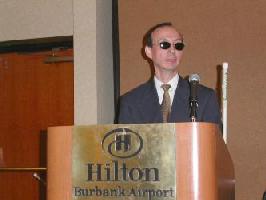 Dr. Fredric Schroeder
Keeping the focus on Braille literacy has been a high priority for the NFBC. This thinking resulted in the development of a Braille Symposium, which was held at the Burbank Airport Hilton on Oct. 1, 2004.
Our target audience was broad-based. We wanted to appeal to parents, educators, Braille users, transcribers, and others in the blindness field. A list of dynamic and knowledgeable speakers was put together. The keynote speaker, Dr. Fredric Schroeder, delivered another one of his upbeat and thought-provoking speeches. The audience listened intently as Dr. Ruby Ryles outlined her research which made the connection between literacy and the success of a blind or visually impaired student. Braille instruction for adults and Braille music were discussed. The Department of Rehabilitation and the coordinators for the VI programs spoke on the importance of Braille literacy. Technology, Braille transcription and the perspectives of parents of blind children were presented.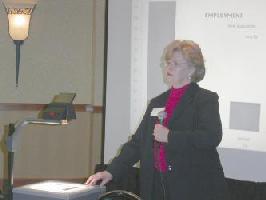 Dr. Ruby Ryles
The tone for this day-long intensive symposium was set by comments from Burbank Mayor Marsha Ramos. Mayor Ramos has supported many functions of this organization. A social mixer was held the evening prior to this event, allowing time for some casual mixing and mingling. The comments received from the symposium were very positive and encouraged us to present a second symposium here in Southern California next year. A similar symposium is already being planned for Northern California for the spring of 2005.