Literacy for Blind Students
By Nathanael Wales, President, River City Chapter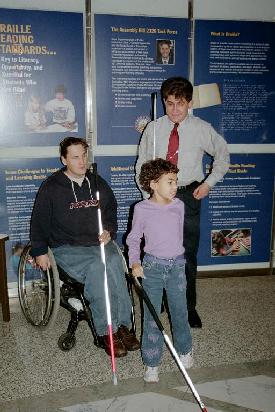 Paul Wick, Brianna Cameron and Nathanael Wales
visited the Braille reading standards display at
the California Department of Education.
"How important is Braille to blind people?" This is a question I am often asked and the response generally goes like this: "How important is reading and writing to the sighted?" For some strange reason, Braille is often not equated with literacy. Braille is the obvious method of reading and writing for functionally blind students.
Some of this confusion is a result of mainstreaming blind children into public schools. This practice became popular in the 1950s and 1960s as residential schools became overcrowded. There were not, and still are not, enough teachers qualified to teach Braille instruction to these blind kids. Blind students are often taught Braille by an itinerant teacher who visits the school once or twice a week.
Sighted students are given instruction in reading and writing, and this instruction is reinforced throughout the day with print words everywhere. All too often, blind students do not have this reinforcement opportunity. This unfortunate circumstance has led to the de-emphasis of Braille throughout the past several decades. This has been the impetus behind the Braille literacy legislation that the NFBC has sponsored. AB-306 (Frommer) was passed in 2001. This legislation mandated Braille instruction to functionally blind students. AB-2326 (Frommer), passed in 2002, created a task force to establish Braille reading standards, as none existed. This task force was a 10-member body composed of educators, administrators, and consumers who were all highly involved in improving and promoting Braille literacy instruction.
California is the first state to establish Braille reading standards. The NFBC is pleased with the role we have played in this endeavor. These Braille reading standards, K-12, can be accessed at the California Department of Education web site at www.cde.ca.gov.
The California Department of Education has also developed a thoughtful and informative display about these standards. This is a 10-panel display complete with descriptive text, information about Braille, and many pictures of children reading Braille. The Department first set up this display in the lobby of their headquarters in Sacramento during the entire month of December for all staff, educators, and visitors to see. The full text of the display was translated into Braille and included in booklets accompanying the display.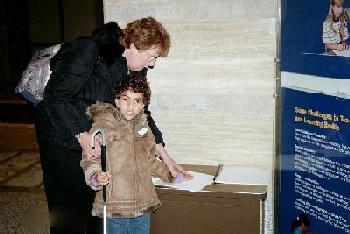 Brianna, 8 years old, reads the Braille transcription while her
mother, Margaret Cameron, observes.
On Dec. 27, 2004, Brianna Cameron, age 8 and an avid Braille reader and Braille Readers are Leaders contest participant, and her mother, Margaret, visited the display. River City chapter members Nathanael Wales and Paul Wick and Parents of Blind Children leaders Joyce and Richard Wales also experienced this extensive exhibit. This display will travel to the California Transcribers and Educators of the Visually Handicapped conference to be held March 3-6, 2005 in San Francisco for hundreds of educators, parents, consumers, and the general public to examine.
The NFBC is truly very proud of our accomplishment in the establishment of these Braille reading standards. These standards will change what it means to be blind for future generations of blind children throughout the state.