Rotarians and the NFBC
By Nancy Burns, President, NFBC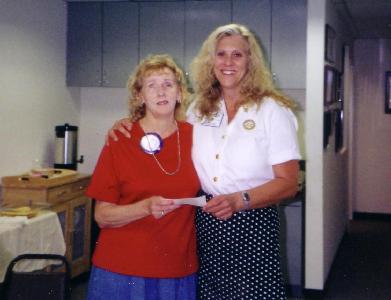 Beth Anderson (right), Burbank Sunrise Rotary Club President,
presents Nancy Burns with a check to help fund a new
Braille embosser.
Approximately two years ago I was making the service club circuit here in the city of Burbank. Literature was distributed and the NFBC message was presented in an attempt to make these service clubs aware of our existence in this community. I was particularly impressed with the members of the Burbank Sunrise Rotary Club. They were warm, friendly and caring people. Since then I have become a member of this group.
Rotarians are service-oriented and have become interested in some of our NFBC projects. At one Rotary meeting I discussed Braille literacy. I brought slates and styluses and alphabet cards and gave a quick Braille lesson.
The projects of the NFBC were discussed and also the need for a second, or backup, Braille embosser was explained. In another effort to educate these Rotarians about blindness, breakfast was served to them in the NFBC office. During that breakfast meeting, Rotary Club president Beth Anderson presented me with a check for $565. This money went toward the purchase of the Tiger Max Braille embosser. Rotarians have also purchased Whozit tickets and have attended our second annual Celebrate Life. Hats off to the Burbank Sunrise Rotary Club.