A Day At The Races

By Robert Stigile, President, San Fernando Valley Chapter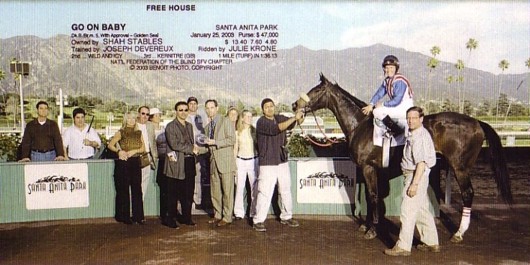 John Boal and Robert Stigile (left to right)
On Saturday, January 25, several members of the San Fernando Valley Chapter loaded into a van and headed out to Santa Anita for a day at the races.
Once we arrived, we were greeted by tour guides who took us all on a tour of the grounds. We were able to see several statues of famous jockeys and read about the history of their races as well as touch the statues, which are usually off limits to the general public.
At the end of the tour, we were given the chance to talk to a jockey as well as pet his horse. After this was completed by all who attended our group, we headed up to the reserved level of the stadium where we sat for the remainder of the day. We had lunch and an opportunity to make wagers on any of the races.
John Boal is a member of the chapter and has volunteered many hours of his time for such projects. He arranged to have the chapter name mentioned during one of the races. At the beginning of race number six, it was announced that the National Federation of the Blind, San Fernando Valley Chapter was present. The name was flashed across the bottom of the screen which displays the names of the winning horses. At the end of this race, John and I went down to the winners circle where we had our picture taken with the winners, and these pictures now hang in the NFBC office.
All in all, a great day was had by everyone and we were able to have the chapter name in the spotlight, changing what it means to be blind.

---
Previous | Table of Contents | Next