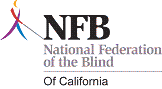 Resolutions & Legislation
State Convention Resolutions
2007 State Convention
Braille Reading Standards Task Force
Learn about this California legislation and read the task force report at the California Department of Education website.
History of NFBC-Sponsored Legislation
AB-2312

(John Dutra, Point-of-Sale machines) was recently signed by Governor Schwarzenegger. Because of the installation of touchscreen point-of-sale machines, legislation was necessary to make these machines accessible once again to the blind and visually impaired population.
AB-1010
(Yee) Forgiveness loans for VI teachers. Died due to budget. Rewritten by Pavley to require publishers to issue all books on diskette to students in grades K-12 – vetoed by Governor Schwarzenegger, 2004
Assembly Concurrent Resolution 195
(Yee) Recognized the need for Braille instruction and additional teachers of the visual impaired – signed by President of the Senate, Burton, and Assembly Speaker Nuñez
AB-2312
(Dutra) Provided non-visual access to point of sale machines – signed by Governor Schwarzenegger, 2004
AB-467
(Dutra) Provided non-visual access to ticket vending machines for public transportation – signed by Governor Davis, 2003
AB-2616
(Lowenthal) Provided forgiveness loans and distance learning programs for teachers of the visually impaired – vetoed by Governor Davis, 2002
AB 2525
(Jackson) Mandated non-visual access to voting machines – signed by Governor Davis, 2002
SB-105
(Burton) Created Division within the Department of Rehabilitation for the Blind and Visually Impaired, Deaf and Hard of Hearing – signed by Governor Davis, 2002
AB-2326
(Frommer) Braille Reading Standards – signed by Governor Davis, 2002
AB-2326
(Frommer) Braille Reading Standards – signed by Governor Davis, 2002
AB 306
(Frommer) Braille Literacy – signed by Governor Davis, 2001
AB 609
(Wildman) Braille Literacy – vetoed by Governor Davis, 2000