President's Message

By NFBC President Nancy Burns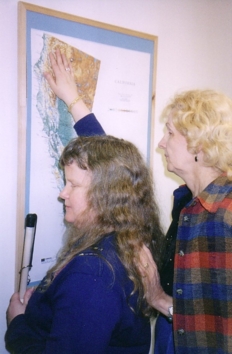 Nancy Burns points out to Jana Littrell the relief
map of California which hangs on the office wall
So far, the year 2003 has been a busy and eventful one. The first major trip of the year was to Washington, D.C. where 18 Californians attended the Washington Seminar. Our legislative messages were again taken to every Congress-man or -woman and our two California Senators.
The annual NFBC board of directors meeting convened for the first time in the new state headquarters. The weekend went quickly with a great deal of planning mixed with pleasure and camaraderie. Our Saturday evening dinner and socializing event was held at the San Antonio Winery. This facility is the oldest existing winery in the city of Los Angeles. In fine Federationist style, we were all back in the office ready to work early Sunday morning.
The NFBC has continued the battle of the "Tweet Tweet, Chirp Chirp" audible signals. Several hearings in both Burbank and Los Angeles have been attended.
This year, rather than having a leadership meeting in the north for Northern California chapter presidents and one in the south for Southern California chapter presidents, one general meeting was held. This seminar took place in Burbank so that all chapter presidents would have an opportunity to see the new NFBC office. It also gave chapter presidents more opportunity to mix and mingle.
In April I spoke at the California Association of Blind Students seminar. I have also attended numerous chapter events and meetings.
The highlight of this year has been our first-ever Braille Is Beautiful workshop for parents of blind children. It was a phenomenal success and the attendees have requested additional workshops.
Plans are now underway to attend the national convention which will again be held in Louisville, Kentucky. The NFBC annual state convention will be held at the Hyatt Regency Sacramento from October 2-5.

---
Table of Contents | Next