Remembering Paul Price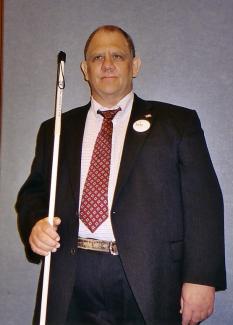 Paul Price
Californians, along with other Federationists throughout the nation, were shocked and saddened by the news of the death of Paul Price. After returning from the 2005 convention, he succumbed to a massive heart attack on Monday morning, July 11. He is survived by his wife, Bobbi, a daughter, and two sons.
Paul served in several capacities within the NFB. He was president of the Diabetes Action Network division. Paul was the immediate past president of the NFBC North San Diego County chapter and was a member of the NFBC board of directors. Paul and his wife had recently relocated to the Boise area.
During the 2005 convention, Paul chaired the DAN division meeting and marshaled throughout the convention. He was a true friend, a mentor, and a support system for many of us. He will truly be missed.
In response to my posting the news of his death on the NFBC listserv, tributes came pouring into this office. I have selected the following submission by Karmalynne Rios to be reprinted here.
Hi Everyone,
My family and I are very saddened at the news of Paul's passing. He was a very important part of my life, and he will always be. He and Bobbi visited my house a lot. Goodness, we were practically neighbors before they relocated to Idaho. He and Bobbi were there when I turned 30, and they were are also there when my sister Sarah Elizabeth turned 21. He was very good to me and the kids, and his kindness will always be appreciated. Paul was very protective of the kids and me, and kept me out of trouble which is no easy task. He also encouraged me to do the right thing. He will surely be missed by everyone.
Love,
Karmalynne Rios