A Personal Profile: Shari Main
By Jim Willows, President, OCB Alumni Association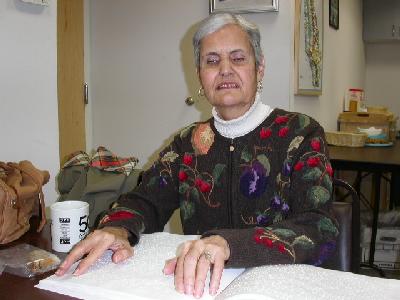 Shari Main
Born Shahrzad Rishar, we know her as Shari Main. She was a happy, pretty baby born in Tehran, Iran in 1942. Her vision loss, due to atrophy of her optic nerves, presented an enormous challenge for Shari. In her culture, if a blind or otherwise disabled child is born into a family it is believed that this birth is punishment for some evil deed. As a result of this belief, Shari was often hidden away.
Shari's father was an architect who worked for the elder Shah of Iran. The family loved Shari, but the Iranian culture provided for little in the way of opportunities for disabled children and none for blind girls or women. Shari had no training or education during the first 14 years of her life. She could only leave her home when accompanied by a family member.
When Shari was 14 the family learned of a school for blind children. However, the school only accepted boys. Shari's family was able to hire a teacher from this school to come to their home to tutor Shari in Braille. She used Braille to develop her own music notation, as she was an excellent pianist. She might have become a concert pianist, but it was considered improper for Iranian women to become professional musicians.
When Shari was in her early twenties, the family learned of a Christian school for blind children. This school did accept girls, but Shari's father was concerned about sending her to a Christian school. She had to promise not to discuss Christianity upon returning to her Muslim home from the school. She was able to obtain her high school diploma. Shari learned more Braille and some skills of blindness. Orientation and mobility were not stressed.
Upon returning to her home, Shari enrolled in Tehran University to study law. Her father was her reader, driver and guide during her year at the university.
In 1969 at age 27 the family sent Shari to live with her brother in the Los Angeles area. Their plan was for her to learn English and to return to Iran as a teacher. After living in California, Shari had other ideas.
A trip to a local restaurant was one of her first family outings. She had no idea what to order, so her brother ordered a hamburger for her. Having no previous experience eating hamburgers, she picked up her knife and fork and began to carefully carve into her burger. Her brother quickly explained that she could pick up the burger with her hands. Shari was in for a lot of new experiences and seemed to thrive on them.
Shari knew very few words in English when she came to America in 1969. She enrolled in an English class at Braille Institute. Upon registering there, her brother asked if she had signed up for orientation and mobility. Shari replied that she was not going to let people see her using a white cane. Her brother then advised her that he could not be her constant companion and if she did not gain her independence he would give her a one-way ticket to Iran. Needless to say, while there she learned to use the white cane and became totally independent. She reflected on the first time she had ventured out on her own with her white cane, paralleling her excitement with that of a 16-year-old receiving her first driverís license. Shari enrolled at Los Angeles City College where she obtained her associate degree in English. With her perseverance and motivation she received her BA degree in English from Cal State, Northridge in 1975. She was on her own for the first time at CSUN, living in the university dorms. During this time she attended her first NFBC meetings and was impressed by the young, successfully employed blind people that she met.
After several months of looking for a job, Shari decided to return to CSUN to do graduate work. Prior to returning to school, she attended the California Orientation Center for the Blind in Albany. She knew she needed to improve her O&M and other blindness skills. She finished her OCB training in June of 1976 and returned to CSUN.
She obtained her masters degree in counseling in 1978 and began looking for work. It was at this time that Shari met Nancy Burns and others in the NFB. She became an active member of the West Valley chapter of the NFBC. At the next NFBC convention, Shari was elected secretary of the OCB Alumni Association. It was at this time that I first met Shari. I was serving as president of the OCB Alumni then. I got a kick out of her referring to me as "boss."
Shari met a young blind man named Robert Main. They were married in 1980 and settled down to a happy married life. Robert worked for the Social Security Administration and Shari was employed by the Los Angeles County Health Department. She worked her way up to the job of administrative assistant before leaving for "greener pastures" in the State Department of Rehabilitation.
Sadly, Robert was diagnosed with cancer and he died in 1988. Shari had become active in the San Fernando Valley chapter of our movement near the end of Robert's life. She relocated to the Ventura area upon accepting a position as a rehabilitation counselor for the blind in the Department of Rehabilitation in Oxnard. While there she became active in the Ventura chapter. Shari later transferred to the Van Nuys District in rehab and returned to the San Fernando Valley chapter. Shari has held numerous local and statewide chapter offices. She is a quiet, but very dependable, member of our organization.
It was a pleasure for me to get to know Shari better while interviewing her for this profile. I urge all of you to meet Shari at upcoming state and national conventions and get to know her better.